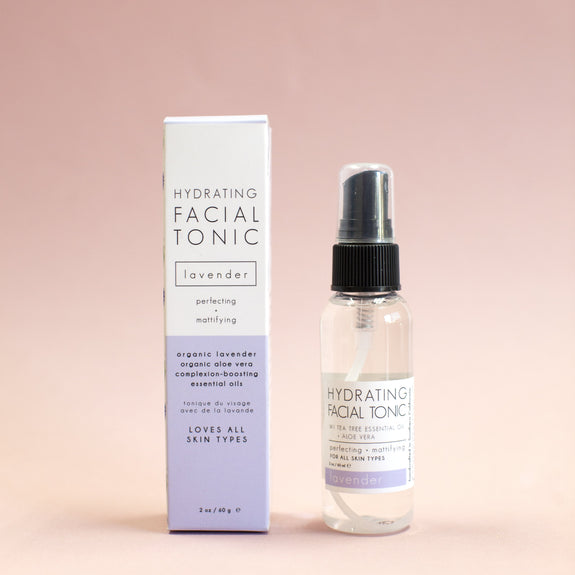 Honey Belle
Facial Tonic - Lavender - 2 oz.
$16.00 USD
Organic Lavender Floral Water and Organic Aloe Leaf Juice keep your skin feeling supple and hydrated after cleansing. Witch Hazel Extract is a natural astringent, traditionally used to minimize the look of pores and soothe redness, while Tea Tree Essential Oil treats blotchy skin, while revitalizing skin complexion.

Belle Tip:
Spray this tonic for a mid-day pick-me-up! (f you're wearing makeup, let it air dry to prevent smearing!) Avoid eye area.

This will help decrease dullness and excess oil
+ Directions: Spray deliberately upon face after cleansing, avoiding eye area. Let the tonic dry naturally, or pat skin lightly to absorb. Please keep away from direct heat or sunlight.
+ Ingredients: Organic Lavender Floral Water, Organic Aloe Leaf Juice, Witch Hazel Extract, Lavender Essential Oil, Eucalyptus Essential Oil, Tea Tree Essential Oil

+ FAQ'S:
1) Can I use a cotton pad to apply this toner?
Yes, you may use a cotton pad if you prefer. However, based on my own experience, the cotton pad usually soaks up more of the toner than your face does. What a waste! The mist is definitely more convenient for usage, however you can do whatever you want

2) Why does the scent vary? Our main ingredient in this tonic is Organic Lavender Water, which varies season to season depending on the harv